2023 is your year to try something new as a family! The Sunshine State is ready for adventure, discovery and memory making…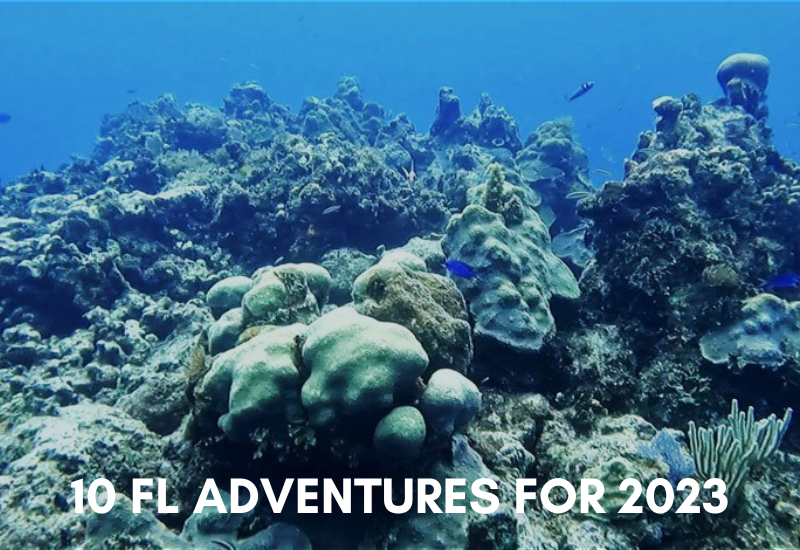 Explore the Everglades. Everglades National Park offers 1.5 million acres of adventure. Ride through Shark Valley, take an air boat ride, go paddling. Click here for details.
Go snorkeling in the Keys. Key Largo is home to the only natural coral reef found in the continental United States. The waters of the Keys are home to 260+ species of tropical fish, coral reefs, and a giant underwater statue. Exploration awaits.
Visit the Kennedy Space Center. Dive into outer space in Cape Canaveral. See the space shuttle Atlantis, meet an astronaut and watch a space movie in the IMAX movie theater. Check the rocket launch calendar for some extra excitement.
Explore Dry Tortugas National Park. This 100-square mile park is accessible only by boat or seaplane and is about 70 miles south of Key West. While there, visit Fort Jefferson, a Civil War-era military structure, coral reefs and bird life.
Visit the Dali Museum. Step into a surrealist painting in St. Petersburg. The museum celebrates the life and art of Salvador Dalí and embraces technology like augmented reality and artificial intelligence to create unique digital experiences for visitors.
Walk the plank at the Gasparilla Pirate Festival. This annual festival on the last Saturday in January celebrates all things pirates. The event begins when the pirates and hundreds of boats "capture" the city from the mayor. The victory is then celebrated with a pirate parade where Mardi Gras-style beads are thrown out into the crowd.
Explore history in St. Augustine. St. Augustine is the oldest city in the United States. Don't miss historical attractions like the oldest wooden schoolhouse, the old jail and Castillo de San Marcos, the oldest masonry fort in the county.
Go caving at Florida Caverns State Park. This is the only Florida state park to offer cave tours to the public and has formations of limestone stalactites, stalagmites, soda straws, flowstones and draperies. 45-minute guided cave tours are offered every day of the year except Thanksgiving and Christmas. 
Go tubing on the Ichetucknee River. Hop in an inner tube and wander through 72-degree water created by a group of springs that feed into a small river in North Central Florida. Tubes are available for rent in the park (you can also bring your own).
Hang with the Weeki Wachee Mermaids. Weeki Wachee is a natural spring where you can see live mermaids, take a trip on a river boat cruise, learn about Florida wildlife, and swim in the pristine waters at Buccaneer Bay. Mermaid shows have been playing at this state park, about an hour north of Tampa, since 1947.