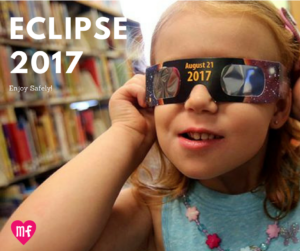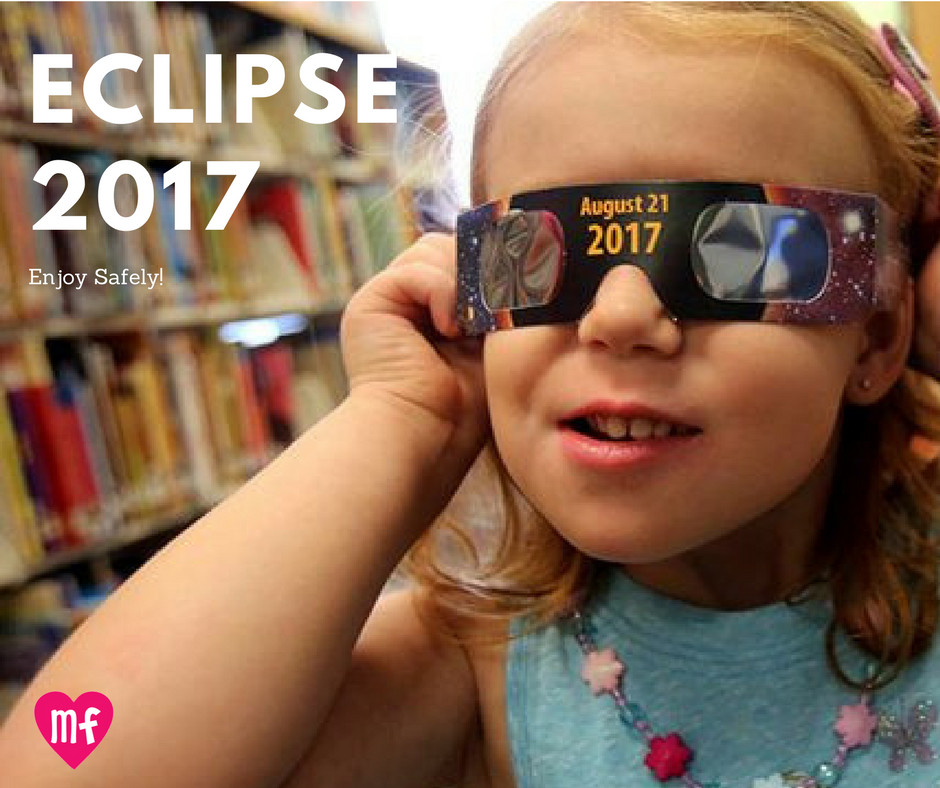 For the first time in almost a century, a solar eclipse will be visible across the entire continental United States. Florida will  see a near total eclipse for several hours on Monday, Aug. 21.
Most of Florida will see an eclipse of between 65-90 percent totality.  The event is due to run from about 1:45-4:15 pm depending on where you are. Check out these local resources in each of Munchkin Fun's markets for eclipse viewing excitement.
BROWARD
The Fox Observatory,  Sunrise 12-5 p, free, but no glasses will be provided; All ages are welcome. 954-384-0442 or SFAAA.com.
Broward County Main Library, Second Floor Display Area,  1-5 p.m. The Main Library will have a live telescope feed from the Fox Observatory so patrons can watch the total eclipse safely without eclipse glasses or risk of sun damage.
Southwest Regional Library, Auditorium 111,  1-5 p.m. Watch NASA stream total eclipse of the sun from across the United States, local observatory telescopes streams, view live partial eclipse of the sun outdoors with free eclipse glasses, arts and craft projects, and more.
MIAMI -DADE
Phillip and Patricia Frost Museum of Science, 1:25-4:30 p.m. $20-$28; includes free glasses, a live stream of the NASA Eclipse Megacast and complimentary iced coffee.
FIU Stocker AstroScience Center, 12p, includes free glasses, a solar-telescope setup, music and science talks.
Miami Children's Museum, 1:30-4 p.m. The first 150 guests will receive special glasses to see the sun safely, and everyone can create a sun and moon to mimic the eclipse on your own. Solar activities are included with regular admission.
Deering Estate, 1-4 p.m. The Southern Cross Astronomical Society will have professional telescopes on site to view the partial eclipse. $12 for adults, $7 for ages 4-14.
PALM BEACH COUNTY
South Florida Science Center and Aquarium, 10 a.m.-3 p.m., free glasses for the first 200 visitors, hands-on activities and a solar-eclipse-corona art contest.
Children's Science Explorium @Sugar Sand Park, 2-4:30 p.m. Guests can drop by the Explorium for free science demonstrations, solar eclipse-model make-and-takes, and solar eclipse glasses for safe viewing (while supplies last).
Belle Glade Branch Library, 2 p.m. All ages are invited to enjoy snacks, read up on the eclipse and get a sneak peek at the event with safety glasses.
Acreage Branch Library, 2 p.m. All ages are invited to an eclipse party with hot solar crafts and cool experiments. Safely watch the skies with special glasses.
ORLANDO
Orlando Science Center — Phone filters to take advantage of your cellphone's camera will be available, as will solar-telescope filters and viewing glasses for visitors who pay general admission, along with eclipse demonstrations. 2 pop-up locations will also host events. Dr. Phillips Center – The green space in front of the downtown performing-arts theater, Seneff Arts Plaza, will be host to an Orlando Science Center pop-up location offering free viewing glasses while supplies last and education information as the eclipse takes place. Winter Park's Central Park – will host another pop-up location for Orlando Science Center also offering free eclipse glasses while supplies last.
Museum of Arts and Sciences, A telescope fitted with a solar filter will allow visitors to see a magnified view, and glasses will be available for purchase
Emil Buehler Planetarium at Seminole State College, 12 p.m. – 4:30 p.m. with point of maximum eclipse at 2:15 p.m., Free, Viewing area: front sidewalks of the Automotive Technology building on the main campus of Seminole State College. They will have telescopes and binoculars on hand as well as presentations to learn more about the event.
TAMPA BAY
MOSI The Museum of Science & Industry, 1 p.m. Will offer a range of STEM activities, including a space talk, viewing of the eclipse through telescopes fitted with solar filters and eclipse viewer building. MOSI educators will be on hand to answer questions and ensure a safe viewing experience. Even if cloudy skies prevent firsthand viewing of the eclipse, MOSI will air a live-stream video of the event from NASA.
St. Petersburg College Planetarium, 1:15-4pm. Eclipse viewers and telescopes with solar filters will be available in the "quad" area of the St. Petersburg/Gibbs campus, east of the Natural Science building, near the south entrance of the West St. Petersburg Library.
Safety Harbor Library, @Waterfront Park, 2-3 p.m., the Safety Harbor Library will provide free eclipse glasses, while supplies last. Two additional libraries have viewing events on Monday, where glasses will be shared. The first is at the 78th Street Community Library starting at 1 PM. The second event is Monday at the North Tampa Branch Library starting at 2:30.