New year, new energy! Now is a perfect time to reconnect as a family and double down on some 2023 goals. Resolutions are a great opportunity to try something new, improve relationships, boost quality of or just have more fun. Book a family meeting, grab a piece of paper and start planning. Here are a few suggestions to get you started (if these don't work for you, come up with your own as a family)…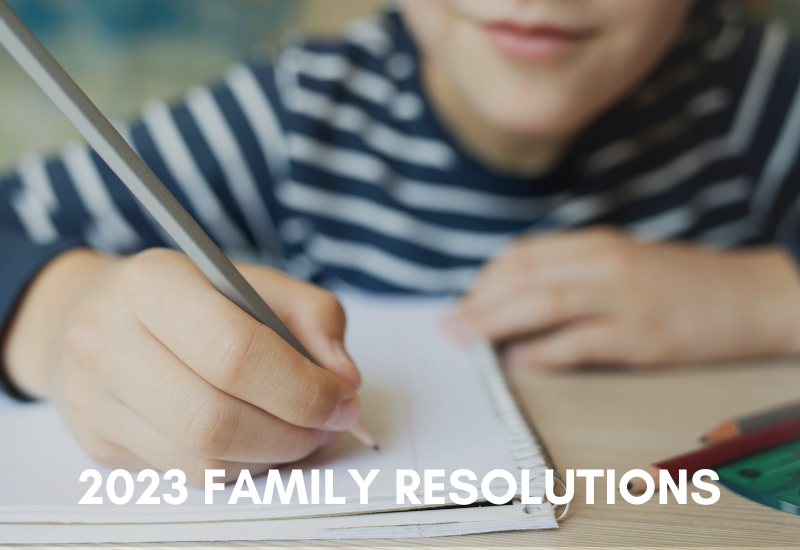 Unplug as a Family. Schedule screen/device/Wifi-free time. Check out a new board game, talk a walk, play charades, sit and chat. Start small and achievable- maybe 30 minutes a week. It's more about the intentionality than the quantity.
Exercise as a Family. Exercise is key for physical and mental health – for kids and adults of all ages. Build in fitness as part of your family lifestyle. Talk a walk after dinner, plan a Saturday morning scavenger hunt through your neighborhood, sign up for a local 5K.
Read as a Family. Sadly, we tend to read less with and around our kids as they age. Remember daily bedtime stories? Bring back regular reading time. You don't necessarily have to read aloud – just read at the same time in the same place. Kids are influenced by seeing their parents read. Plan a trip to the library or your favorite book store, pick something good for everyone and snuggle up with a great book. Try to make family reading time happen 1-2 times per month.
Do Chores as Family. No one likes to do them, but they need to get done. Make a list of top family chores and assign away. Even if you don't "need" your kids to help, it's important for them to participate. They'll learn responsibility and appreciation.
Eat Meals as a Family. Schedules are crazy, time is tight and the days fly by – but family meals matter. Even if it's a 10-minute breakfast. Eating together introduces your kids to new foods, improves relationships, encourages positive eating habits, reduces stress and improves communication.