Anyone else READY for break??? Plan a week of adventure & fun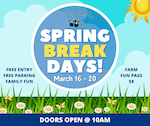 Atwood Family Farms. Looking for an exciting way to spend Spring Break? Look no further! Come by the farm for Spring Break Days at Atwood Family Farms! Atwood Family Farms is the perfect place to enjoy a beautiful spring day while spending time with family and friends. Come and enjoy our jumping pads, giant slide hill, new bubble barn, yard games, playgrounds, and more. Please click here for more event details, and thanks for supporting your local family farm!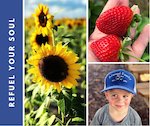 Atwood Family Farms Strawberry & Sunflower U-Pick. The only thing better than strawberries & sunflowers is more strawberries & sunflowers. Come by the farm for our first strawberry u-pick season at Atwood Family Farms! Quantities cannot be guaranteed, and strawberry & sunflower picking is first come, first serve. We will notify everyone via social media if we become picked out for the day, please check our Facebook or Instagram page before making your trip out to the farm. No pets are not allowed on the farm. Please click here for more event details, and thanks for supporting your local family farm!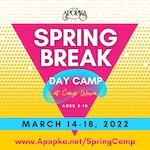 City of Apopka. Register today for the City of Apopka's Spring Break Day Camp at Camp Wewa on March 14 – 18, 2022 from 7:30am-5:30pm.  This camp is for ages 5 to 10. Visit our website for complete details, including online registration.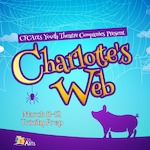 Central Florida Community Arts. Wilbur's no ordinary farmhouse pig and he'd do anything to avoid ending up on the dinner table. But help arrives from the most unlikely of places… a spider's web. As Wilbur grows bigger, his friendship with the tiny spider Charlotte grows too. But how far will she go to save her best friend? Please take a moment to review the CFCArts Organization-Wide Health & Safety Guidelines. Click here for details.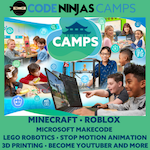 Code Ninjas Carrollwood & Trinity. Transform your child's love for technology into an exciting learning adventure at Code Ninjas Carrollwood or Trinity. Guided by our team of Code Senseis, Code Ninjas Camps empower kids to gain valuable tech skills and make new friends. It's an unforgettably fun learning experience. Use code MUNCHINKIN to get $10 off for our Spring Break and Summer Camp for our CARROLLWOOD and TRINITY location only! Seats are limited.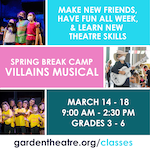 Garden Theatre. Explore the tales from the other side of the story! In this exciting Spring Break Camp, students in grades 3- 6 will take on the classic evil, no-good doers through their songs and infamous deeds. Spring Break Camps are taught by local, experienced theatre professionals and are tailored to meet the needs of each grade level! Register your student here.
West Coast Morgans. JUMP FOR JOY! WCM Horse Camp is the BEST! Half and full days, single weeks and bulk weeks over summer and winter breaks, and family discounts! Beginners through advanced riders. Different weekly themes and days filled with tons of hands-on horse activities as well as guest speakers and water play. Click here for info.