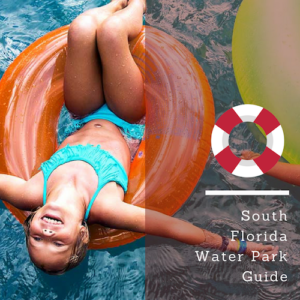 Summer in South Florida is a (at least!) a six-month affair. Make the most of the season with splashes & giggles at a local water park….
A few tips regardless of your destination
Hours vary by park, make sure to call & confirm before venturing out
Pack towels, flip flops & loads of sunscreen. Reapply often.
Hydrate regularly.
Some parks allow outside food. Great way to save money & encourage healthier snacking.
Broward County
Castaway Island Water Park (3300 N Park Rd, Hollywood, 954-357-8811). Castaway Island offers two interactive water playgrounds: One for smaller children with climbing features and a small slide; the other for older children. The park also features a zero-entry, hard-bottom Swim Lagoon with a waterfall. Castaway Island is open seasonally.
Paradise Cove Water Park at C.B. Smith Park (900 N Flamingo Rd, Pembroke Pines, 954-357-5170). Paradise Cove is Broward County Parks and Rec's largest aquatics facility. Older kids will can hag in paradise pipeline featuring four 5-story watersides, while little ones will like Sharkey's Lagoon's18-inch deep pool and Parrot's Point's 12-inch deep pool. Everyone can enjoy a 410-foot-long meandering type ride. Paradise Cove is open seasonally.
Splash Adventure Water Park (401 S. Powerline Rd, Deerfield Beach, 954-357-5100). This is the park for little ones. Features include slides, tunnels, turn valves, wheels and levers, water curtains, and a huge bucket that fills and empties onto the playground below. The depth of the pool ranges from zero at its edges to 12 inches at its deepest. Lifeguards are on duty whenever the water park is open.
Tigertail Aqua Challenge at Tigertail Lake Recreation Center. (580 Gulf Stream Way, Dania Beach, 954-201-4500). Tigertail Lake Recreational Center is Broward College's experiential learning, team building, watersports and ropes course facility. Its Aqua Challenge is a water obstacle course and playground featuring climbing walls, a bouncing dome, a trampoline and a catapult with a 16-foot swing
Tropical Splash Water Park. This park includes two interactive water playgrounds: One for smaller children, with climbing features & small slides; the other for older children, with a spiral slide, two turning slides, water guns and an oversize bucket that regularly fills with water and dumps it out onto the playground below. The complex also includes a fully accessible instructional pool, used by the county's SWIM Central program, and a marina with boat rentals.
Miami-Dade County
Palm Beach County